By Leighton Marjoram for Visionz Magazine
With the summer drawing to a close and the hypergrid and Opensim community starting to wake from its slumber. Two things mark this reawakening, first is the annual FestAvi 2016 (now its third year) by the amazingly talented group over on Francogrid.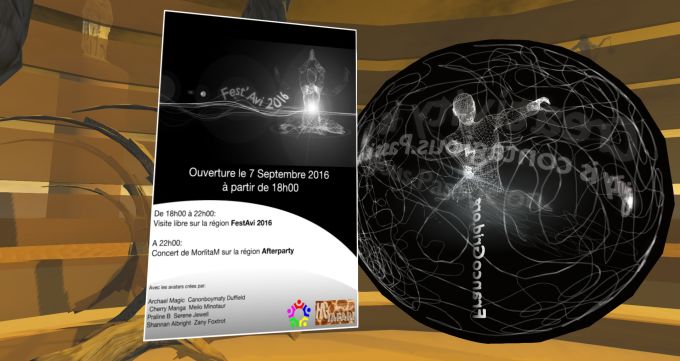 Second is AvatarFEST 2016 (now in its second year) where the Opensim community comes together and exhibitors exhibit their projects and performers perform.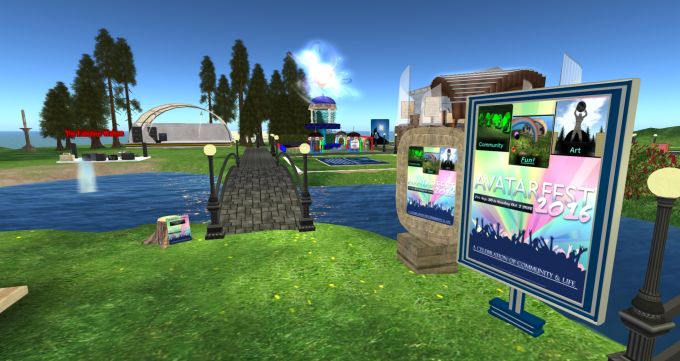 Before moving on a little outfit change and description is needed and this month is a fabulous outfit. My hair ((r)M Hair No.40'16 (fitMesh) + Free Gift included [Dark Reds]), dress (Snowpaws - Ballerina Apple Dress) and lips (UD KIM KAY LIPZ PACK 2) come from the Kitely market. My shoes (Merci - Studded Mesh Ankle Boot) come from Merci store on OSGrid.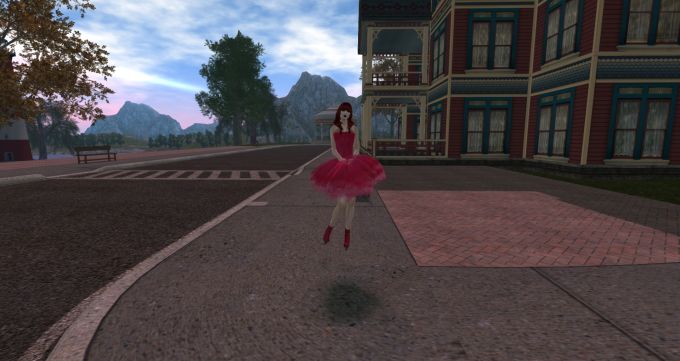 Destinations
hg.francogrid.org:80:FestAvi 2016
avatarfest.net:6000
FestAvi 2016 a huge success
By the time the September edition is out FestAvi 2016 will be over but the region is still open and you can visit to find copies of this year's avatars. This being the first time I have attended I have included some images from the event.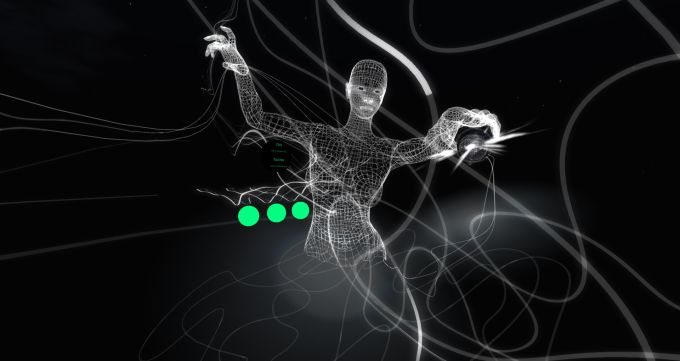 When you arrive on the region you will be given a notecard with instructions how to setup your viewer preferences for the experience. After this you move to where the journey starts you will find three green sit poseballs. Once you have sat down you will be asked to accept a camera reset. Then press go and sit back and be blown away.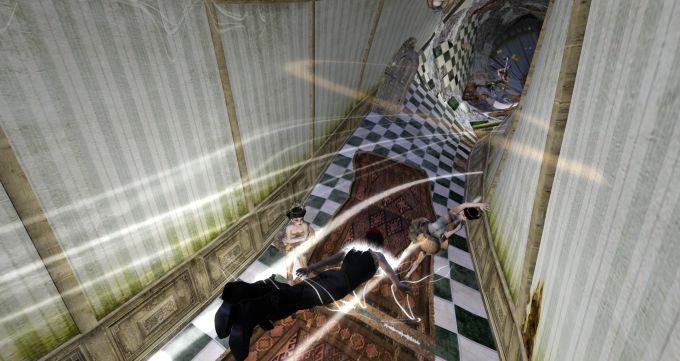 Fest'Avi 2016 Production: Cherry Manga [Based on an original idea of Praline Cherry B and Manga], Scripts: Nino85, Whitman 3D, Modelling: Cherry Manga, Tao Shenn, praline B, Sirin Peccable, Digital images: MorlitaM Music: MorlitaM. With full perms objects hypergrid and some models from Turbosquid sites, Archive3D and TF3DM. There are a total of 19 avatars created this year. I cannot recommend this more highly creativity is contagious and I am passing it on.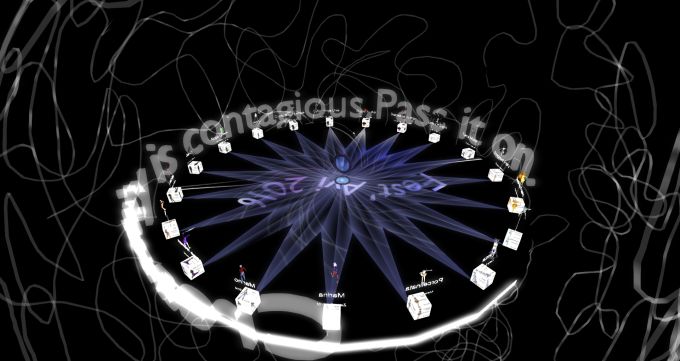 AvatarFEST 2016
The rest of this article will be focused on AvatarFEST that runs 30th of September to 2nd of October. A community based and non-commercial event where different people from the Opensim community come together and showcase some of the amazing things you can find in Opensim.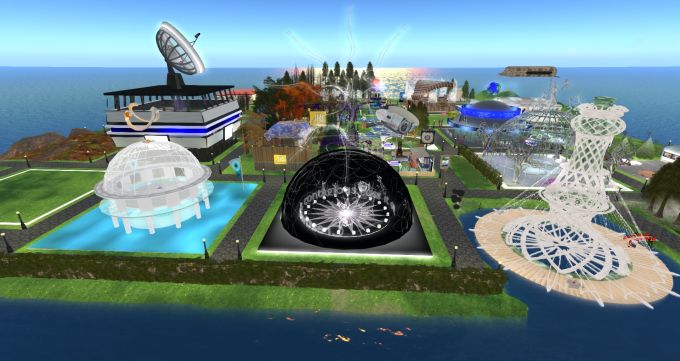 There are so many exhibits here to list them would take the whole article so I will cherry pick a few that catch my eye. The FestAVI exhibit is stunning, the exhibit from condensation land is incredible, an RP American diner from Jamie Anna Wright there are a few sci-fi themed builds and a miniaturised version of one of the towers from Ivory City. On the website there are 21 listed exhibitors and the projects and regions that they represent a diversity that is both impressive and creative.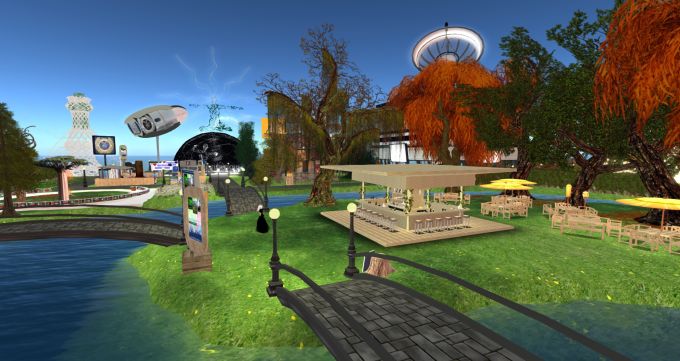 Interview with Han Held
When preparing for this article I asked Han Held a few questions about AvatarFest, its focus, the surprises and further information that you should now.
My First question was "what inspired you to begin AvatarFest?"
Han Held: "We lost Fleep, we lost JCC, it was doubtful whether OSCC was going to happen or not. I felt like someone needed to put on something for the community, having nothing would have been a huge symbolic blow."
After the amazing success of last year, I wanted to ask Han "what has surprised you about AvatarFest?"
"Han Held: How generous people really are -both with their time and their cash. Most particularly with their time. We met our donation goal within a couple of weeks, and people have been very giving and very patient with donating time and talent to the festival."
My final question was "what three things do you want people to know about AvatarFest?"
"Han Held: First thing is that it's intended to showcase what people do here on the hypergrid, and demonstrate that there is life and vitality out here. I want to show anyone whose interested that there are people here, there are things going on here and they should come out and join us!"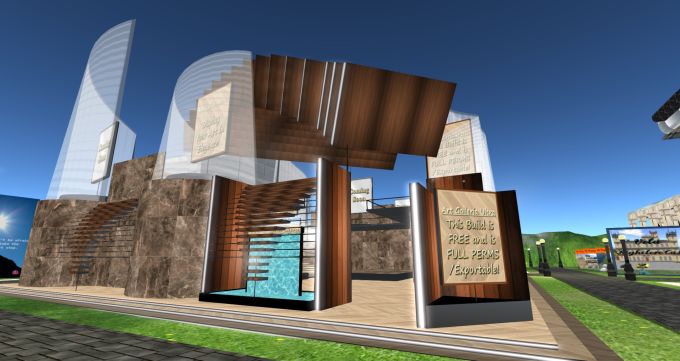 "The second thing I'd want people to know is that the grids and projects represented in AvatarFEST are just the tip of the iceberg. There's a lot of grids on the hypergrid which did not participate for various reasons but are very active. Refuge grid is a great example, as is craft -I could go on all day! My point is that AvatarFEST should be looked at as a teaser or sampler ...we're just scratching the surface of what is out here on the hypergrid."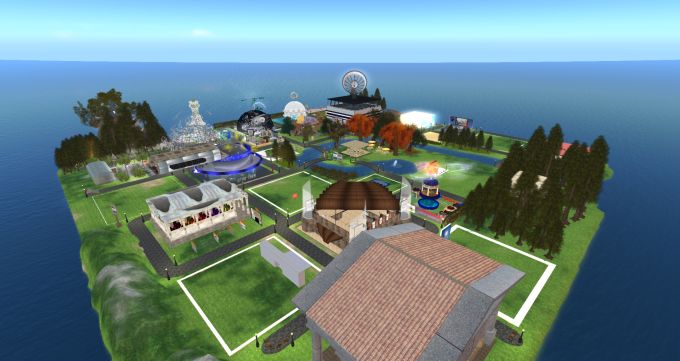 "The third thing ...and this might actually be the most important thing... would be that AvatarFEST is not me and I'm not just being self-effacing. Eryn has borne the brunt of the organizing both years, 3RG's Zinnia Frenzy has also been a huge help in recruiting help, exhibits and talent; Isis Ophelia and Tom frost made major contributions and we've had tons of contributions from the hypergrid."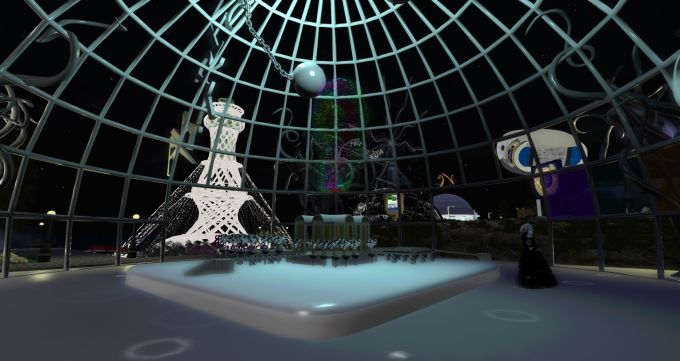 Performers
Over the three days there are so many performers giving them time for the event. Below there is a list of the dates, times and performers details for reference. For more details, visit the AvatarFest website.
Below is the google calendar for the AvatarFest weekend, things change so it is the easiest way to keep up to date to what is happening.
Where we are going next month
Next month we get out history on and I will be visiting two amazing builds on the Metropolis grid Carima and Hohenburg.
Where to get your copy
With Visionz being a purely inworld publication, some of the team have regions where you can get your copy each month. Here are a few places for you to visit to get this months copy (as well as all the back issues in one vendor).
hypergrid.org:8002:Yes we can
hg.osgrid.org:80:Lani
hypergrid.org:8002:Azura
Links
FestAVI Goolge+ https://plus.google.com/u/0/collection/ACtGsB
AvatarFEST Website http://avatarfest.net/
AvatarFEST Google+ https://plus.google.com/u/0/communities/100335141401305291462